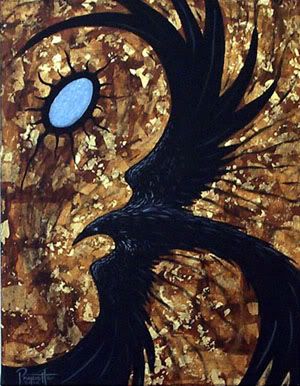 Sometimes I wish I could put down the brush and become an investment advisor, or a developer, or some other such thing. Sometimes I wish that the spirit that moves me to do this so single-mindedly would let me be, let me rest, let me follow an easy path. Sometimes I just want to close my eyes and live blindly.
But then there is that moment of pure inspiration, or the almost overwhelming appreciation for a lilac petal slipping through the air to land gently on the ground. There is the satisfaction of using my skills and hopefully giving others a small taste of the poignant beauty of what I am blessed to see in the natural world that surrounds us. I try very hard to be 'a regular guy', I avoid the art scene and I try to be as accesible as possible. I am so often in that Other Place that I could easily become one of those artists who float through the world half aware of what is going on with the people around them, so consumed by their art.
Perhaps it is because I view art as a gift. Sometimes it is a difficult gift to accept, but that makes it no less precious. It is not mine, but only my responsibility to share, and to do so in a way that is inclusive and welcoming.
I guess I don't really want to do anything else, after all.