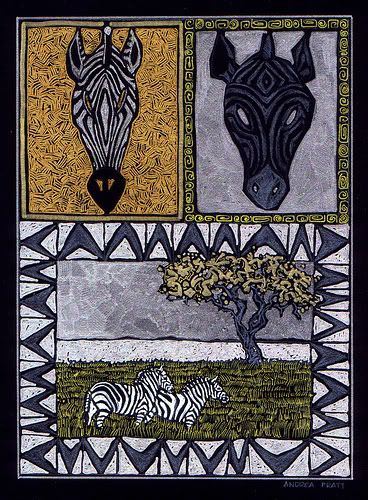 In the coming weeks I'll be showcasing some of the talented artists who have crossed my path these past few months and years. Their work will range from photography to performance to something in between. This week, I'll begin with Vancouver artist Andrea Pratt. Here goes!
Andrea Pratt
Q: First, can you tell me a little about yourself?
A: I was born and raised in the Horseshoe Bay area of West Vancouver when it was a sleepy ferry terminal/marina/fishing village and definitely not a suburban destination for the rich and famous as it is now. The beaches and woodlands of my childhood influenced me a great deal (and my earliest artistic influence was Emily Carr) and I do like to paint west coast scenes occasionally, but my real interest is in more symbolic subject matter. The artists I most admire are Klee and Hundertwasser. I also love so-called 'primitive' art of all kinds, particularly First Nations, Pre-Columbian and African (tribal).
Q: Andrea, when did you first realize you wanted to become an artist?
A: When I was seven years old and in Grade Two a friend told me I should become an artist. It had never occurred to me but it seemed to fit just right. Fate, however, took a hand, and I believed my parents who told me that artists couldn't make a living and (shhh… in whispers…) they're a bit weird. I did complete a Bachelor of Fine Arts at the University of Victoria but then I buckled to social and economic pressure and didn't return to my first love for about 15 years.
Q: Do you have any words of wisdom for anyone thinking about taking the big step themselves
, into becoming an artist in their own right
?
A: My advice to someone thinking about plunging in is to take a six month sabbatical from your 'regular life' and work really hard every day on your art. At the end of six months you'll know. I know that for me, the more I work the more inspired I get and the more I want to work.
Q: Any words to live by you could share with me?
A: Words to live by -- hmmmm. There are a lot of quotes I like, but these are probably my favourite art-related quotes:
Art is like a kite. You have to pull the string hard in order to stretch it to its limit, but you don't want to pull it so hard that you break the thread, because the thread connects you to the land and its peoples. (Wu Guan-Zhong)
Art is not a pastime but a priesthood. (Jean Cocteau)
One does not discover new lands without consenting to lose sight of the shore for a very long time. (Andre Gide)
Art is making something out of nothing and selling it. (Frank Zappa)
Q: Thanks, Andrea. I'll just mention that if you want to follow Andrea and her career as an artist, stop by her website from time to time. You'll find a link to her in the sidebar, and some other key sites listed below:
Andrea has been known to draw on the walls of her home and any piece of scrap paper not nailed down. Sometimes she gets lucky and does something gallery-worthy. The bathroom walls are the hardest to sell.
Acrylic paint, collage elements, negative-space mixed-media drawings and digital photography are Andrea's mediums of choice. Much of her work examines time, growth, and life cycles through her use of personal and primitive motifs, symbolic imagery and patterns on a segmented and flattened picture plane. She uses a layered approach to structuring each painting that physically manifests her conceptual vision.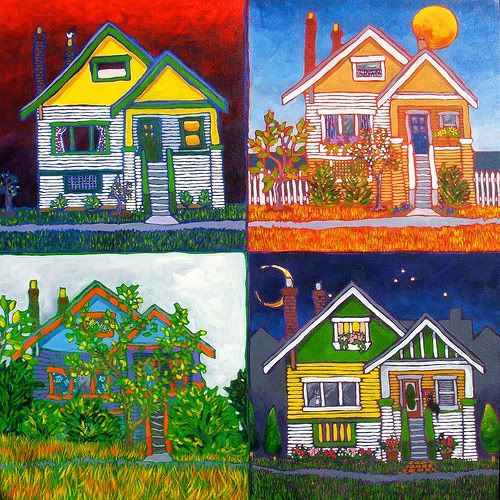 She also likes houses.



works in order of appearance:
Two Zebras, Penguin 2, Bloom, My Life As A House
copyright Andrea Pratt

--------------------------------------
Links for Andrea:
http://andreapratt.com/
http://andreapratt.etsy.com/