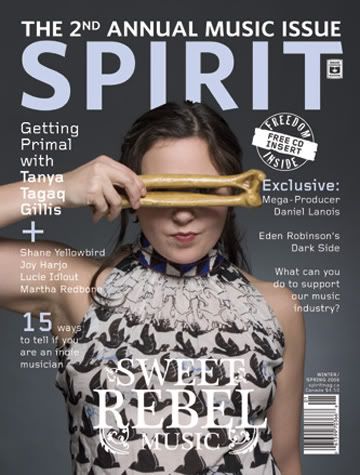 www.spiritmag.ca
So, I was fortunate enough to have been interviewed by writer Clint Buehler for
SPIRIT Magazine
. If all goes well, I might just have a little space in the next issue. It's a National Publication and I feel very honoured to be counted among so many excellent contemporary artists. Here's the pertinent info from their website:
THE ART ISSUE
SPIRIT is in the middle of producing a comprehensive Arts Issue dedicated to emerging and established First Nations visual artists. With the assistance of contributing arts editors, world renowned curators, artists and historians from across North America, SPIRIT is creating a remarkable issue that will capture the essence of First Nations contemporary and traditional art.
Thanks to all artists, curators and galleries for your contribution. For more information please email info@spiritmag.ca or call 705-746-2781
--------------------------------
STORES WITH SPIRIT:
SPIRIT MAGAZINE is available in ALL Chapters-Indigo Bookstores across Canada.
ALSO available at select NORTHERN STORES and your local REZ Stores across Canada and the US.
You want it at your REZ STORE? Email us the address at subscribe@spiritmag.ca
ALSO available at:
ALBERTA
Calgary:
Billys News
Daily Globe News
McNally Robinosn Booksellers
With the Times
With the Times #2
Pop'lar Books - Camrose
The Front Page - Edmonton
Chow's Varieties - Fort McMurray
BC
Simon Fraser University - Burnaby
Book Bonanza - Campbell River
University College of the Cariboo - Kamloops
McNews - North Vancouver
Books and Company Prince George
Salt Spring Books - Salt Spring Island
Tanners Bookstore - Sidney
Misty River Books - Terrace
VANCOUVER
Does Your Mother Know?
Duthie Books 4th Avenue
Granville Book Company
Little Sisters Books
Magpie Magazine Gallery Inc.
Mayfare News
Peoples Co-op Bookstore
Peoples News and Magazines
SFU Bookstore @ Harbour Centre
Spartacus Books
University of British Columbia
VICTORIA
Bolen Books ?Victoria
Munro's Booksore Ltd. - Victoria
MANITOBA
Dominion News and Gifts - Winnipeg
McNally Robinson Booksellers (WG) - Winnipeg
McNally Robinson Booksellers (WP) - Winnipeg
NEW BRUNSWICK
Loto 7 Book Corner - Bathurst
Reids Newsstand United Bookstore - Fredriction
Reids Newsstand - Moncton
Bennington Gate - St. Johns
NOVA SCOTIA
The Inside Story - Greenwood
Daily Grind News - Stand Halifax
The Inside Story - Windsor
ONTARIO
The Bookshelf - Guelph
Novel Idea - Kingston
University of Western Ontario - London
Book Store ?York University - North York
Carleton University Book store - Ottawa
Glebe Smoke Shop - Ottawa
Globe Mags and Cigars - Ottawa
Mags and Fags - Ottawa
Presse Internationale #6 - Ottawa
Wellington Street News - Ottawa
Parry Sound Books - Parry Sound
Speak Volumes Book and Stationary - Peterborough
Christophers Smoke Shop - St. Catherines
Smokers Plus - St. Catherines
Black Cat Too! - Sudbury
Lakehead University Alumni Bookstore - Thunder Bay
TORONTO
BookCity - Annex - Toronto
BookCity - Danforth - Toronto
BookCity - Queen - Toronto
BookCity -Yonge - Toronto
BookCity in the Village - Toronto
Pages Books and Magazines - Toronto
Presse Internationale - Bloor - Toronto
Presse Internationale - College - Toronto
Presse Internationale - Danforth - Toronto
Presse Internationale - Queen - Toronto
This Aint The Rosedale Library - Toronto
Toronto Womens Bookstore - Toronto
University of Toronto Bookstore - Toronto
Wordsworth Books - Waterloo
University of Windsor Bookstore - Windsor
QUEBEC
Double Hook Bookshop - Montreal
Le Point Vert Inc. - Montreal
Librarie Olivier! - Montreal
SASKATCHEWAN
Buzzword Books -Regina
McNally Robinson Booksellers - Saskatoon
YUKON
Mac's Fireweed Books - Whitehorse
SAN FRANCISCO
CityLights Books
Ask your local book or magazine store to order copies of SPIRIT. Contact publisher@spiritmag.ca or 705-746-2781 for more information.