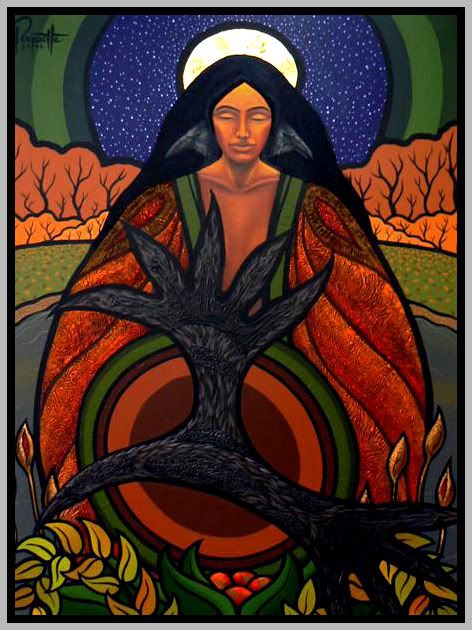 36" x 48"
Mixed Media
on Canvas
2006

Summer days are gently falling asleep, lulled by the long, cool nights. The harvest moon shimmers in pregnant glory and the earth pours forth her bounty; fruits, seeds, vegetables and grain. The seasonal birds wing their way down to warmer skies and the winter birds, those that remain, are crowing their temporary victory once again. The night sky is ablaze with stars! Outside of city lights, I see a multitude of suns burning away, many already passed on into blackness, their message of wamth, love and isolation still reaching me, entering my heart from such vast distances, I cannot even begin to dream.
And yet there is still the ripened field, the full gourds promising pies and stews, and the little bees keep working, waiting until that last moment when wings will no longer beat in frigid mornings.
I have taken my black birds for walks in fields of green and gold. I have skimmed over lakes and travelled far, trying to entice them from off my shoulders and into the world so that I might have my own kind of rest, my own oblivious sleep. But still they sit, here and here, whispering to me of secrets and loss, and the beautiful earth.
I stare out into the sunshine and a slow smile spreads across my face. I suddenly recognize those birds on everyone's shoulders, wisdom creasing the edges of eyes, digging permanent lines of worry and laughter into the faces of everyone I meet.
I am suddenly excited.
I want to reach out to everyone! I want to ask!
What do you hear?