Here it is again!
National Aboriginal Day
For regional events today, click here:
Events!
And now on to some photos...
As promised, the roses did indeed bloom, and here they are intermingled with the daisies which have definitely gone wild, or native, you might say.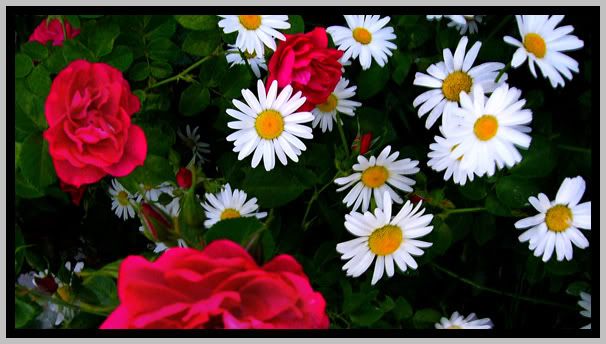 And since we have red and white, lets add some black and yellow to complete our Medicine Wheel (or blue-ish, depending on your interpretation). Shown here is a gorgeous little Lacewing I photographed this morning. Everything was so clean and fresh as the sun came up, the thunderstorm last night having washed through with surprising force and an adrenaline-inducing light show. As I stood at the window watching it all unfold, one bolt struck so close I could actually hear it sizzle through the rain before the thunderclap engulfed all other sound. But, back to the lacewing...
And there you have it.
Happy Solstice!