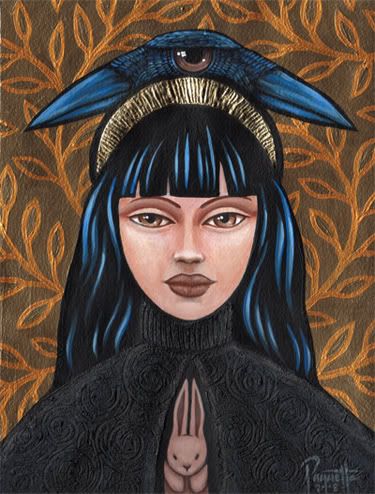 9 1/2" x 12 1/2"
Acrylic and
Gold Leaf on Paper
The
Bearclaw Gallery
will be hosting a show on
Saturday June 14th
I'll be there from about
1-4pm.
The show will run for about a week after the opening so come by, get out of the gloom and check out some
c
o
l
o
u
r
!
---
Just a few quick thoughts on this painting:
This is one of a series of 5 paintings. I'll post the rest in the next week as I find the time.

This piece is talking about Residential Schools and the symbols we use. At first glance it may look like the young woman is praying, with some sort of religious head gear on. Upon closer inspection, we find that what we might have taken for hands pressed together in benediction is instead a rabbit, and the hat is instead a raven.

So, while we may assume one thing, the spiritual reality is much different.

I've heard a lot of stories of the people who had to undergo the pain of being forced to learn an alien form of spirituality and worship. Some were clever enough to go through the motions, but instead of praying to a saint, in their hearts they instead communed with nature and their traditional symbols, remembering the teachings of their tribe or community.

At some point if I find the time, I'll come back and talk more about this, but as it is...well, here it is.